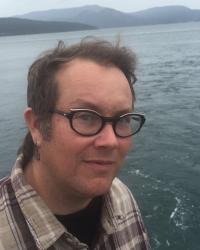 Contact Information
Office Hours:
PDL: sign up here: https://www.wejoinin.com/sheets/foacv, & by appointment. ACC: by appointment.
Biography
MFA, Poetry, University of Montana, Missoula 2010
MS, Environmental Studies, University of Montana, Missoula 2010
BA, Liberal Arts, St. John's College, Santa Fe 1997
I teach in CHID and the Program on the Environment (PoE). I'm a writer and theorist who explores intersections of environmental humanities with critical race, queer, trans, feminist, and decolonial studies. My current research projects investigate the altered shorelines of the Black and Duwamish rivers, the assembly of poetic voice under the guidance of animals, and the forest relations of trans and queer youth in rural Appalachia (my home region). My teaching foregrounds writing, experiment, forays outside the classroom, and other collaborative explorations.
Additional Courses
AUTUMN 2018 – ENVIR 460 Power, Privilege, & Preservation
SPRING 2019 – ENVIR 460 Power, Privilege, & Preservation
AUT 2019 – HON 345 Accidental Poetics: Writing with chance & in found situations
SPRING 2020 – ENVIR 460 Power, Privilege, & Preservation