Program Assistant for Mexico Study Abroad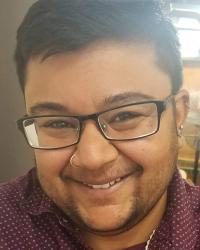 Biography
B.A., English Language & Literature, University of Washington, 2013
**Last day as CHID Outreach Coordinator is 9/30/20**
Sasha Duttchoudhury began as an honorary Chiddie by way of helping to develop the Queer Study Abroad Resource and staffing the LGBTQ Communities, Public Health, and Migration in Mexico program under the direction of Dr. Anu Taranath. Sasha is now overjoyed to join the CHID family officially as the Outreach Coordinator, where they drive communication and connection to CHID through managing our website and social media presence, supporting prospective student outreach, engaging alumni and donors, and getting our study abroad offerings on the map. 
As an undergraduate, Sasha participated in Dr. Anu Taranath's 2013 NGO Activism and Social Justice program to Bangalore, India and was a part of the T.I.P.S. to Study Abroad publication. This transformative, culminating experience catalyzed a unique trajectory that brought together creativity, connection, and community in the service of social justice.
After graduating with their BA in 2013 in English Language & Literature, with a minor in Gender, Women, & Sexuality Studies, Sasha has been a South Asian Americans Leading Together (SAALT) Young Leaders Institute Fellow (2014), co-organized and been published in Moving Truth(s): Queer and Transgender Desi Writings on Family (2015), and has been a Voices of Our Nation's Arts (VONA) Fellow (2016). In addition to their involvement in local and national organizing around racial and gender justice, Sasha has also been a speaker, facilitator, and consultant who creates learning opportunities that hold the complexity of identity, relationships, power, and conflict with playfulness and compassion.