Associate Professor, Gender, Women, and Sexuality Studies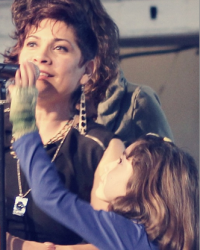 Biography
Raised on L.A. radio, Michelle Habell-Pallán grew up in Downey, California. She is a professor of Chicana/Latina Studies in the Department of Gender, Women & Sexuality Studies and adjunct in the School of Music and Communication at the University of Washington.  She earned a PhD in Literature and Cultural Studies from the University of California at Santa Cruz.
A respected cultural critic, digital archivista, and exhibit curator, she authored Loca Motion: The Travels of Chicana/Latina Popular Culture (NYU Press) and coedited  Latino/a Popular Culture (NYU Press).  In her role as public scholar she is a curator of  the award-winning bilingual and currently traveling exhibit American Sabor:  Latinos in U.S. Popular Music hosted by the Smithsonian Institution's Traveling Exhibition Service (SITES).  As a digital feminista that seeks to transform digital humanities through community engagement, she co-founded and co-directs the University of Washington Libraries Women Who Rock: Making Scenes, Building Communities Oral History Archive.  
Habell-Pallán is  recipient of a Rockefeller Foundation Humanities Research Award as well as a Woodrow Wilson Foundation Research Award for her innovative research on gender, popular music and culture.  She has been awarded a 2014 Digital Commons Faculty Summer Fellowship, sponsored by the Simpson Center for Humanities to support the Women Who Rock:  Making Scene,  Building Communities Oral History Archive. 
She makes community &  music with the Seattle Fandango Project and is a member of the Fembot Collective|Gender, New Media & Technology.
Her article, "'Death to Racism and Punk Revisionism': Alice Bag's Vexing Voice and the Unspeakable Influence of Canción Ranchera on Hollywood Punk," appears in Pop When the World Falls Apart: Music in the Shadow of Doubt (Duke University Press, 2012) and her new manuscript Beat Migration: Transmediating "American Sabor" for the Digital Humanities is in progress.  
Contact her at mhabellp@u.washington.edu.