Lecturer, School of Art, Art History, and Design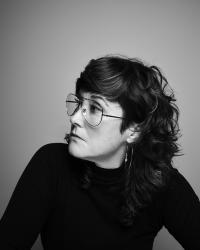 Biography
MFA Visual Arts/Interdisciplinary Studies in Art Theory and Practice, The University of Chicago
BFA Major Video/ Minor Photography and Art History, The Atlanta College of Art (SCAD)
Dan Paz is a visual artist whose work and teaching explores the labor of lens-based production as a collaborative site where the intersections of the image-idea and lived experience are produced and contested. In videos, photography, and sculptural projects that query the ability of documented processes to be manipulated—to be multiplied and replicated, stopped and started, rewound and advanced—Dan specifically works within the impossibilities of absolute replication to question the very ability of the image to truly represent. The resultant body of work explores the contours of identity and community within rich socio-historical frameworks.
Dan has shown at Hayward Gallery London, UK; the 12th Havana Biennial at Fábrica de Arte Cubano, Havana, Cuba; The Media lab, NYC; and the Museum of Contemporary Art, Gene Siskel Film Center, and The Reva and David Logan Center for the Arts in Chicago, IL. Dan's exhibitions have been generated out of residencies with El Centro Desarollo de Artes in Havana, Cuba; The Studios of Key West; Chicago Artist Coalitions' Hatch Residency; The Luminary in St. Louis, MO; ACRE in WI; and High Resolution Media Arts Residency with Hedreen Gallery and The Heimelijkhaus Media Arts Residency in partnership with AMOLF Institute in Amsterdam, NE in 2018.
Awards include: The John D. and Catherine T. MacArthur's Connection Grant, The Ann Metzger National Award for Prints, The LinksHall LinkUP Grant & Residency, Open Practice Committee Grant, University of Chicago Arts Council funding, Chicago's CAAP Grant, the Claire Kantor Foundation Grant, and The Wyckoff Milliman Endowment Grant.
Paz is part-time faculty in The Department of Comparative History of Ideas whose coursework is cross-listed with the Interdiscplinary Visual Arts Program in the University of Washington's School of Art, Art History, and Design. Paz will guest-edit A New Nothing's photography publication in 2021.