Associate Professor, Art (Design)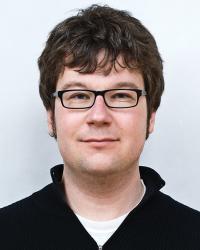 Biography
Associate Professor Axel Roesler received his Ph.D. in Cognitive Systems Engineering with a specialization in Human-centered Design from The Ohio State University. He also holds an M.F.A in Industrial Design from The Ohio State University and a Diplom in Industrial Design (equivalent to M.A.) from Burg Giebichenstein, Hochschule für Kunst und Design (University of Art and Design) in Halle, Germany. He came to the United States as a Fulbright Scholar in 1998.
Dr. Roesler is Chair of the Interaction Design program and a founding member of the University of Washington's DUB group (Human-Computer Interaction and Design Coalition) an initiative between the departments of Computer Science & Engineering, Human-centered Design and Engineering, the iSchool, and the Division of Design to pioneer cross-disciplinary education for future human-computer interaction design professionals. He is an Adjunct Associate Professor in the Department of Human Centered Design and Engineering (HCDE) and faculty of the MHCI+d program, a unique one-year master program in Human Computer Interaction and Design, offered in collaboration of the Department of Computer Science and Engineering, the Division of Design, HCDE, and the iSchool.
His research interests address the interactive, visual, and dynamic display of information and the impact of innovation in everyday life. Areas of application are interfaces and information display systems that afford collaboration and coordination of interactions with devices across distances and multiple perspectives. Recent research projects explore new interaction concepts for the commercial flight deck, real time documentation of medical emergencies, design for direct interaction, and contextual interactions with mobile devices. Research collaborations include design research projects with Boeing, Microsoft, Intel, and the UW School of Medicine. Dr. Roesler has published on collaborative design methods, design for expert domains, and the design of cognitive systems.