Submitted by
Cynthia Anderson She.her
on December 19, 2013 - 2:39pm
Platinum Grad
Ryan Lewis tops the charts on his own terms
MACKLEMORE & RYAN LEWIS ARE ENDING their fall U.S. tour in December with three sold-out shows at Seattle's Key Arena, a fitting end for 2013's most compelling pop-music story. Not only did the Seattle-based duo earn a worldwide No. 1 smash with "Thrift Shop"—an infectious ode to second-hand clothing—they were also responsible for "Same Love," a heartfelt song that both reflected and steered the nation's growing support for gay marriage. Along the way, they won three MTV Video Music Awards and a BET Award, performed on Saturday Night Live and held a video shoot at the Dick's Drive-In on Capitol Hill that clogged traffic for hours. All of this was accomplished despite the fact that the act does not have a major-label record contract—something unfathomable before the rise of social media and still pretty incredible after.
For the affable Lewis, '09, this whirlwind is only a few years removed from days ensconced in Suzzallo Library and the Parnassus cafe in the basement of the Art Building. As a Comparative History of Ideas (CHID) major, he was able to simultaneously indulge his passions for travel, cultural studies, religion and philosophy.
"I think Ryan would have done well in any interdisciplinary environment that embraces art and encourages critical reflection," says Georgia Roberts, UW lecturer who taught three CHID courses Lewis took. For his senior thesis, Lewis created a music video—consisting of hundreds of arresting still photographs—that explored some of the downsides of social networking and technology. The project embodied the interdisciplinary ethos of the CHID program and also indicated where his interests lay outside of the classroom. Graduating during the depths of a recession, though, pushed him even closer to his artistic pursuits. "Thank god I didn't get a job," laughs Lewis.
Even if he had he found himself at a desk of an advertising agency fresh out of UW, Lewis would have quickly made a name for himself. A restless self-starter, he started his own photography business as a 16-year-old, mostly shooting bands. It was during this time that Lewis established ties with Seattle's hip-hop community and soon crossed paths with Ben Haggerty, a Seattle rapper five years his senior who went by the moniker Macklemore. He initially provided graphic design and photography for Haggerty, but as their friendship grew they formed a partnership that propelled them into the pop culture stratosphere.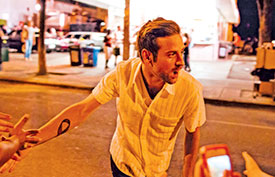 Lewis was born in Spokane and lived there until he moved to Seattle at 15. Drawn to music from an early age, he played guitar in heavy metal bands in junior high and high school; unsurprisingly, he took the reins in designing the bands' websites and T-shirts. When he moved to Seattle and attended Roosevelt High School, though, he found that the school was far more jazz- and hip-hop- oriented. That experience not only altered his listening habits—which would continue to expand during a stint at North Seattle Community College—but it also changed his approach to making music. He shifted to keyboard and started experimenting with music production software and creating his own beats and instrumental hip-hop tracks. By the time Lewis was finishing his UW career, he and Haggerty were collaborating on a more substantial level, serving as his producer and earning him title credits on 2009's The Vs. EP.
Macklemore had built an enthusiastic fan base in Seattle over a period of a decade, but the success of Vs. and 2010's Vs. Redux—which reached No. 7 on iTunes' Hip Hop chart—aroused the interest of major record labels. The deals the companies were offering, however, were far from appealing. The typical major label contract today is what is referred to as a "360 deal." The label fronts money for advances, recording fees, radio and TV promotion, videos and tour support. In exchange, the label owns not only a percentage of record sales, but copyrights for multiple albums and a share of merchandise, endorsements, publishing and more. In the label's eyes, these deals are fair because the initial investment it makes allows an artist to achieve a level of stardom at which they can start charging hefty concert ticket prices, which is where the real money is. For most artists, though, these deals are not advantageous—and often disastrous.
LEWIS AND HAGGERTY RESISTED THE LURES. "We both have a strong sense of marketing and promotion," says Lewis. "Aside from the music, we like to figure out how to make excitement." This prowess was evident when their debut full-length album The Heist was released in October 2012. Several songs from the album had previously been released as singles, building a buzz for the album. It debuted at No. 2 on the Billboard charts and No. 1 on the iTunes Digital Albums chart. The immediacy of the album's success proved there wasn't much reason to take the traditional route, even as record labels offered sweeter deals. "So much of our story now is about showing that in 2013, you can do things independently," says Lewis.
That point was hammered home as "Thrift Shop" grew into an international sensation, reaching No. 1 in the U.S., Canada, U.K., Ireland, France, Belgium, Denmark, Netherlands, Finland, Norway, Australia, New Zealand, Israel and Lebanon. Sales of the single have topped 7 million in the U.S. alone. The video, which Lewis co-directed, has been viewed more than 420 million times on You- Tube. In all this frenzy, it was easy to miss their single "Can't Hold Us" topping the charts in three countries and selling a cool 4 million domestic copies. In a year full of surreal moments, the reality of these figures is as jarring as anything.
The spotlight has certainly altered reality for the pair. First, their success has been a source of curiosity and inspiration to fellow artists. "When we had the biggest song in the world, people started picking our brains about how we did it," says Lewis. "It has opened up doors to meet and collaborate with people we respect and admire."
The most notable shift, however, has been the leap to celebrity status. Lewis is mindful of the constant presence of cameras and has had to adjust to the scheduling demands of stardom. For the self-proclaimed "studio rat," the grind of touring and press demands have interrupted his typical creative process. "Reality strikes that [creativity] has to happen on the plane, on the tour bus, in the hotel room." He has also had to accept that most fans and interviewers are far more interested in what it's like to be a celebrity than what is behind the music. "You wish more people were as nerdy as you are," notes Lewis, "and interested in the more technical, engineering and creative aspects."
Lewis also wishes that it were "more publicly understood that the relationship that Ben and I have goes beyond just making hip-hop records." What's important to them is that they are at the center of a very creative team, one that employs photographers, graphic designers, musicians and more. "What continues to impress me about Ryan is his focus on working and creating in collaborative settings," says Roberts. "It takes a tremendous amount of dedication, patience and genuine practice to be a good collaborator."
Following the three Key Arena shows, "we're being very intentional about taking some significant time off," says Lewis. Apart from getting to "live some life for a few months," he and Haggerty want to avoid rushing a follow-up to The Heist. "I want to do it right…and set standards for ourselves like we did last time."
In the long term, Lewis hopes to apply his vision to another entertainment arena: the movie business. Considering the range of sounds he has introduced into the hip-hop idiom—the solemn piano sound of "Same Love," the cheap saxophone loop in "Thrift Shop" or the Spaghetti Western intro to "White Walls" provide a quick primer of his sonic palette—it's easy to imagine him creating a compelling soundtrack. However, he's not limiting his scope to the musical side of films, eyeing forays into acting in and directing features.
Wherever he goes, Lewis will take pride in being a Husky. "I loved UW. I miss traveling and studying at the same time. And I miss being on campus." When he does return to campus, a packed Husky Stadium is the likeliest venue. Then again, he could just as well be lecturing on music, art, marketing or some intersection of them all. As Georgia Roberts says, "He is a critical thinker who cares about the world and his place in it. Now that he has such a large platform, I'm excited to see the next move, both creatively and politically."
—When not playing drums in his wildly unpopular band, Paul Fontana is Associate Editor of Columns.
Reimagining
Anil Kapahi photo
Sheepishly, I have to admit that while I knew of the College of Arts and Sciences' Comparative History of Ideas (CHID) program, I wasn't very familiar with it. For the record, it teaches students how to be critical thinkers.
Naturally, the first question that occurred to me was: What do you do with a CHID degree? The answer is just about anything. CHID graduates work as teachers, interior designers, personal trainers, potters, librarians, musicians, dentists, social workers and museum curators, among other things. "The possibilities for what you can do with a CHID major," I was told, "is limited only by your imagination."
It should come as no surprise, then, that a 2009 CHID graduate makes up half of one of the hottest names in hip-hop music today: the local tandem of Macklemore and Ryan Lewis. Although he gets second billing, Lewis, 25, has helped play a major role in how the duo turned the music business model upside down.
They achieved stunning success without the help of a major record label or an agent, for that matter. Instead, working on their own, they developed a vast and fiercely loyal fan base online that propelled their debut album, The Heist, to No. 1 on the iTunes albums chart within hours of its October 2012 release (78,000 units sold in the first week). It also entered the Billboard 200 chart at No. 2.
This example of ingenuity and innovation caught the attention of everyone in the music business because of the way Lewis and Macklemore avoid middlemen and guide their efforts the way they want. "We both have a strong sense of marketing and promotion," Lewis told Associate Editor Paul Fontana during an interview for our cover story. "Aside from the music, we like to figure out how to make excitement."
Innovation is something the UW is known for, and not just in medicine and the hard sciences. Those advances—kidney dialysis, Hepatitis B vaccine, ceramic tiles for the Space Shuttle, for instance—are stunning. But equally amazing are the new ideas being infused into the arts and humanities by our alumni. And Lewis' achievements, which range far beyond the musical beats and production skills he brings to his current work, are revolutionary.
Now that sounds like a critical thinker in action.
Jon Marmor Editor