Submitted by
Naraelle Kristin Hohensee
on July 16, 2013 - 5:07pm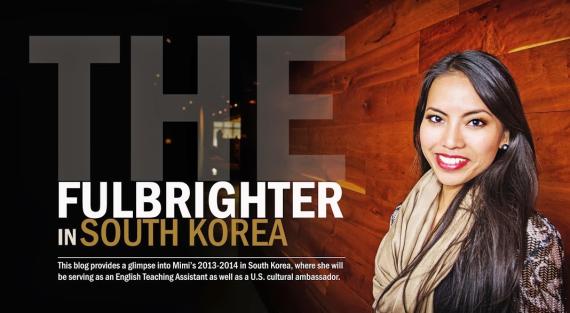 CHID Alumna Mimi Cagaitan is spending the 2013-14 school year as a Fulbright scholar in South Korea. From her description:
A first-generation immigrant and first-generation college student in the U.S., Mimi believes teaching in South Korea will be an important step in broadening her understanding of cultural identity and the effects of globalization. Her time in South Korea will help her further develop the abilities she needs to be an effective educator in what, someday, she hopes will be borderless classrooms. 

Following her Fulbright teaching appointment, Mimi will pursue a Ph.D. in English, and, later, a position as an English professor at a university. She hopes to continue her studies on the cultural and corporeal geographies of transnationalism in literature, to implement her own educational programs addressing diversity and difference, and to research and teach on the intersections between race, gender, sexuality, and national identity in the lives of today's increasingly mobile global population.
You can read all about her personal, academic, and cultural journeys on her blog, The Fulbrighter in South Korea.